The Nyx cosmetics lipstick, to be specific, the lip lingerie push up lipstick claims to be a long-lasting product which not only makes filling and lining your pout easy but it also plumps too!
Now I'm not sure about you peeps, but I haven't seen many lipsticks at this price that come in a pencil like form with plumping effect too, so obviously I had to check it out.
Do be aware that not all of NYX cosmetics lipstick are vegan so you'll have to be careful if that's what you are looking for in a product, but they are a all cruelty-free brand.
Disclosure: This post may contain affiliate links which means that I may earn commission if click and make a purchase but no additional cost to you.
Okay, Let's get into the review now!
Quick overview:
Pros
Nice creamy texture
Smooth application
Comes with a handy sharpener
Lastage is reasonable
Cons
Started to cling a little towards the end
Could do with more shades like their original lip lingerie line
Didn't experience any visible plumping effect.
Texture
First up texture!
The NYX lip lingerie push up is a creamy version of the original lip lingerie, which came in a liquid format.
There are a few differences to the lip lingerie push up, with the main one being the formula, thanks to the added feature of having lip plumping properties.
NYX state their lipstick 'glides on creamy and never feels dry', but how true is this?
Well as for the creaminess I can confirm this is certainly true. It has a nice soft touch to it especially when you test it on your arm.
On the lip it isn't too bad but if you have dry lips like me then it's going to be a bumpy ride, even more so if you don't moisturize your pout beforehand.
For how it actually feels once applied you'll have to continue reading to find out!
Shades
The lip lingerie come in around 12 shades, all of which are mainly nude. There are some warms with a mix of others. The colour of the shades mostly consist of purples, browns, and pinks.
Currently my favourite shade are 'lace detail', a nude pink beige and 'push up', a brown spice pink, which I like using when going out.
I used 'the word' currently as my mind tends to change a lot when it comes to lipsticks. One day I really love the colour, but the next sunrise I'm over it.
I feel like the colour range in the lip lingerie push up are great for both day and night outings, although not as large as the original lip lingerie.
Application
Application is pretty easy. You simply pull off the lid and get going.
Just like the brand says, I use the pointy tip to line my lips and then for filling in, I prefer to slant it a little so that more colour is deposited fast.
It does go on smoothly after I've prepped my pout, so I can say it definitely has some creaminess to it.
However, I did notice it started to cling onto the dry patches on my lip so I had to do a few touch ups other than that it didn't feel sticky or cause my lips to become stiff.
Usually matte lipstick for me are a no go due to the dryness but I'm glad this product didn't cause a massive issue, although it did dry my lips, it occurred towards the end of the day, after I had all the fun.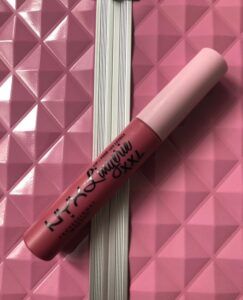 If you are wondering how do you get the tip pointy again after it's flattened over time from use, well the cool thing about this lipstick is that it has a sharpener on the lid so once you've rounded it, all you have to do is grab the cap and give it a twist and there you have it, good as new!
Lastage
'our new Lip Lingerie Push-Up Long-Lasting Lipstick' is what NYX cosmetics state but of course the question is does it live up to this?
Err, let's say the answer to this question includes a mix of yes and no. I don't want to confuse you peeps, so I'll explain what I mean by this.
The yes comes from when I have prepared my pout beforehand well, that includes moisturizing and applying base.
This way the colour stayed on as much as it's strength allowed, which happened to be around 6 hours. I know it may not seem that much but if you put into consideration the price then I think it's pretty good.
The reason why I said no was because I noticed the days when I used the lipstick and ate as well as drank a lot, the colour faded quickly and did transfer, even with prepping.
So I think I would be using this lipstick when going out, where eating isn't the main activity! I mean you can still get away with it but it requires some amount of touch ups.
As for the plumping feature, it wasn't really effective, in other words I didn't experience any visible plumping.
Just to add the thing which I find annoying about this lipstick is that it can snap so easily especially if you aren't careful when opening it.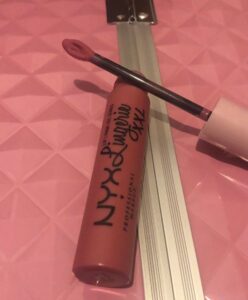 Overall I'd rate this lipstick an 8/10! Price wise it's great, it applies easily and the shade selection is good too. I think I would stick to using this for short outings though due to the lastage and fading. You can check out the nyx lip lingerie push up lipstick for yourself here!
If you prefer to add some shine then I suggest you check out the nyx lip gloss which can be worn along or even layered!
Why not check out other awesome vegan lipsticks by tapping here!
What lipstick do you prefer, mattes or shimmers or do you like lip balms?
Have a great day!?
Please follow and like us: