I am a fan of brow gels, they are easy to use, you just whip them out and get applying. No deep concentration required or equipment just the brush and your brows! Anyways we're here for the performance on the pacifica brow gel. Carry on reading if you'd like to know my favourite aspects as well as anything I weren't a fan of!
Let's get into it!
What the pacifica brow gel is about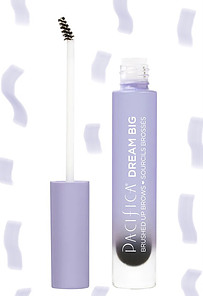 The brand state this gel was created to 'Define, fill and fluff' but without the all to familiar and annoying crunch! It features ingredients like vegan collagen, rice bran wax, as well as jojoba oil all helping to nourish brow hair whilst providing a comfortable wear.
The inclusion of plant fibers help fill in sparse areas by 'connecting to one another', resulting in full defined brows that you have been dreaming of! Also, pacifica promise of a 'no crunchy, stiff brows ever!' So shall we see how true that is!
Shades
Currently there are only 4 shades available that's mainly dark brown. The shades are; deep, dark medium, medium and light. The colour selection is quite limited and doesn't really offer options for blonde nor red brow hair.
To be honest the shades appear quite similar especially the deep, dark and medium which also made me wonder which colour would fit me right.
I decided to go for the dark medium even though I would usually pick the deepest shade available but I didn't want something too dramatic, rather subtle. The match was actually good, it went along quite perfectly, giving off a natural appearance which is what I was after initially.
Shade range = 5/10!
Application
The pacifica brow gel comes with a 'micro-spooly brush' which apparently should allow for a precise application. I can agree the application is easy, the brush is small enough to fill in my brows and not go over the intended location which I have experienced with many applicators.
It deposits the right amount of product onto the brows too which isn't a lot so as to create a gel mess. It does though require a few swipes to fully coat due to the micro size which I'm not too bothered about as that way I have more control and can see how much I am applying.
If I had to point out a flaw it would be with the formula, I noticed when getting it on it came out in clumps at some point and was quite thick, requiring me to brush numerous times to give it a smooth clumpless look.
The most important question is though was there any stiff and crunchy brows?
To be honest at first it did seem like it'll feel stiff due to the thick formula consistency however once it had dried down it was soft.
Does it add definition? Yes it certainly does add some depth to my brows. It does give a natural brow look too.
Suitable for sensitive skin? I'd say it is okay. When I first wore it did seem to make me feel itchy which is a common symptom for me when trying out something new however after a while it settled down.
I have though tried out products in the past and had no reaction but this one is different even though there does appear to be good ingredients like vegan collagen, rice bran wax and jojoba oil.
Application = 7/10!
Lastage
So far the gels I've been using last roughly between 4-6 hours such as the Anastasia beverly hills but they cost a little more compared to the pacifica one which is priced at around $14. So how strong was the dream big brushed up brow gel?
It was basically something I were expecting, doing great for the first couple of hours till it needed reapplying as the colour had faded at around the 4th hour mark.
Lastage = 7/10!
The verdict!
Overall I rate this pacifica brow gel an 7/10! I like how it doesn't cause the brows to stiffen and go crunchy as well as the applicator size however it would be cool if more shades were available and if occasional clumps weren't an issue.
In terms of pigmentation and lastage I prefer the beauty bay brow fixer fibre gel plus it's cheaper too at £6 or $7-8.
That's it for now peeps but if you don't want to leave just yet than I suggest you tap here to check out more awesome vegan brow gels that are waterproof too!
Have a great day!
Please follow and like us: