The refy brow sculpt came in my grasp when I was on the lookout for new brow gels, which is my preferred type of brow product. They are super easy and quick to apply usually.
If you'd like to know how this brow sculpt performs then continue reading as I go through my favourite aspects as well as anything I weren't a fan of.
Let's begin!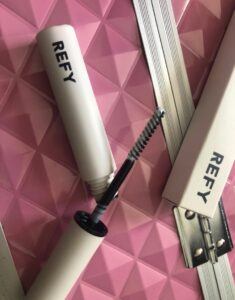 Quick overview
Pros
Unique design
Great lastage
Travel friendly
Creates a feathered look
Cons
Tricky applicator
Leaves white residue
"The comb & brush are amazing at setting my brows"!
Description
Refy state this brow sculpt let's you shape as well as set hair in place. It's formulated using a 'perfect balance between a wax and gel'. The carnauba wax is a great vegan alternative to bee wax, it's obtained from the leaves palm plant.
The brow sculpt features a double end brush allowing you to brush and shape your brows into place. The product is said to be water resistant and flake free.
Collection
The refys brow gel comes in a three stage process which consists of a gel, pomade, and pencil.
You start off with stage one which is brow sculpt to set hair in place, then use the pomade to add depth and shade and last but not least the pencil to outline the brow.
You don't have to follow these steps, you can use them on their own, to achieve your desired brow effect. I'm more of a gel fan so that's the only product I decided to purchase from this collection.
Application
Refy mention this brow gel is easy and simple to apply so is it?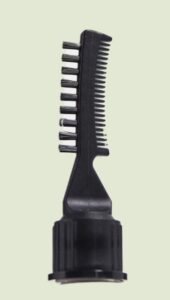 Well it is easy to apply but that's once you get the hang of using the applicator, the gel goes on fine though. You have to twist the cap to access the brush for applying the gel and then shut the brush and pull to reveal the double ended comb. The comb is quite sturdy but gentle enough as to not poke your brows.
The gel does seem to leave a white residue but I found that is the issue mainly if you don't brush the product properly or if you use more product than  needed, less is definitely more.
I also found out by scraping excess formula to the sides, you won't get the white residue left on the brows as some have complained. Just keep brushing till it settles in.
The gel is a sticky consistency when you first grab it on the brush, after applying it though dries down but does later turn a little stiff on the brows which wasn't a comfortable feeling.
Application = 7/10! 
Lastage
The lastage is great, it does keep my brows still and in the position I want them to be at. The strength stays for around 5-6 hours and that was in normal, not too hot conditions.
I haven't tested it in warm weather but would like to see the results.
I suspect my oily skin may affect the lastage but I wouldn't be too sure till I've tried it.
I would also like to add, that there are quite a few brow products out there which cause my brow hair to fall out. With this formula I haven't yet experienced this problem however I would need to continue using it for some time to truly know how my brows react.
Lastage = 8/10!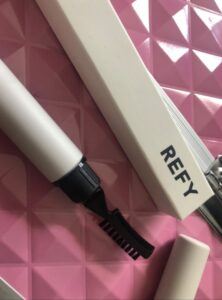 So overall I'd rate this brow gel an 8/10! It does last well, has a unique double ended design and does keep brow in place, once you get the hang of using it however I did notice towards the last few hours of wearing it, the formula started to dry my hair, giving it a stiff feeling but maybe that comes with keeping 'brow hairs firmly in place' like refy state which is certainly does.
I would definitely say it does give an impression of a feathered or a laminated brow look. So if that is what you are after then I suggest you check it out, you won't be disappointed.
If you don't apply a generous amount you'll end up with white residue on your brow like I did, that'll be a little hard to get rid of.
Have you tried any of refys products whether it's brows or face makeup? Let me know in the comment section below!
They do have some pretty good and unique design ideas as well as formula though, like with their lip sculpt which you can view here!
That's it for now peeps but if you don't want to leave then tap here to check out more awesome brow gels!
Or if you prefer clear gels to set your brows then tap here!
Have a great day!
Please follow and like us: