The Best smudge proof mascara is the one that doesn't smear or flake, ideally keeping it's performance throughout the whole day, come rain, shine, or sweat! Plus these are vegan and cruelty-free too so don't worry!
Shall we get rolling now! I think so!
Quick Overview
Milk makeup Kush waterproof mascara
Wunderbrow volume mascara
Rare beauty perfect strokes universal volumizing mascara
Byredo tears in rain mascara
Milk makeup kush waterproof mascara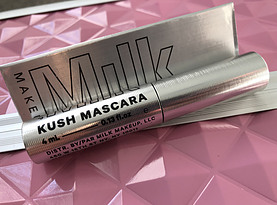 The milk makeup kush mascara is formulated to be waterproof which equals a long-lasting, strong application without no smudging nor flaking! It is not only vegan and cruelty-free but clean, paraben free, as well as talc free too!
This mascara is designed to provide 'super thick, full' lashes, so if high volume is what you are after then the kush waterproof could be what you're looking for. Infused with hemp derived cannabis seed oil, this smudge proof mascara conditions for a 'softer, healthier-looking lashes'! According to the brand, the oil prevents the common dry and brittle issue that comes with smudge proof mascaras, getting rid of the crunchy feeling too!
You can check out how the kush mascara performs by tapping here!

Wunderbrow volume mascara
The wunderbrow volume mascara is the ultimatum product for 'Volumizing, Lengthening, and Curling' for an all day wear! It's a best seller and as the brand states the only mascara you'll ever need! It features properties like lightweight, high pigmentation, smudge proof as well as a bunch more. It's performance isn't only limited to it's formula, it extends to the design too, which includes the bristles along with the shape.
The wunderbrow mascara doesn't only provide great results it treats and cares for them too! What caring qualities does it have you ask? Well it promotes lash growth whilst conditioning and strengthening. Not only that, it deals with lash fallout too by increasing the production of hair follicles!
Rare beauty perfect strokes universal volumizing mascara
The rare beauty mascara is 'created for every lash type', that includes sensitive eye peeps as well as contact lens wearers. It is dermatologist tested as well as ophthalmologist tested too! It features an easy to build formula making application easy peasy. The formula is said to be weightless too so no droopy lashes.
The unique brush is curved in shape and features a mixture of long and short bristles which create length as well as add volume. The ultra black water resistant mascara pulls through the whole day without flaking or smudging, something we are looking for! Oh and no clumping either, just a 'clean, defined and separated result'!
Byredo tears in rain mascara
'Shower-proof, gym-proof, swim-proof – even tear-proof'
A new formulated version of the byredo mascara, the tears in rain formula features a waterproof finish that's one of the cleanest on the market according to the brand, '89% natural and 100% vegan'. That sounds awesome!
This mascara is ideal for anyone whether you are wanting to create a natural look or after an intense effect. The easy to apply as well as buildable coverage coats every lash for a 'very long-lasting' look, through day and night! Forgot to mention they have a pretty unique shape, not sure if it's supposed to resemble a tear or rain, though it can pass as both!
That's it for now peeps, there you have it the best smudge proof mascara but if you don't want to leave then why not check out these long-lasting mascaras, that'll get you through the day, rain or shine!
Have a great day!
Please follow and like us: