Finding the best vegan eyeshadow palettes in the shopping aisle can be a little time-consuming and annoying to say the least, but luckily that's not the case online. It's much simpler!
You know what I mean, a beautiful eyeshadow palette, sitting on the shelf catches your eye, you run to it, grab it and then frown.
You frown because you find out that the eyeshadow contains carmine or other animal derived ingredients and so you begin the process again until you find the one.
Eyeshadows are available in a range of different forms, in palettes and in individual sets, I personally prefer palettes as that way I don't need to carry many little pots.
You can get eyeshadows in various finishes too, whether you are looking to add a little sparkle or just a simple matte, there's something for everyone to like.
Okay let's get into it now!
Quick Overview 
Makeup revolution eyeshadow palette fortune favours the brave
Pacifica animal magic eyeshadow palette
Illamasqua artistry palette experimental
Beauty bay bright 42 colour palette
Elf every day smoky eyeshadow palette
KVD vegan beauty shade + light eye shadow palette
I heart revolution tasty marshmallow wonderland eyeshadow palette
I heart revolution burger eyeshadow palette
Makeup revolution eyeshadow palette fortune favours the brave
Makeup revolutions, fortune favours the brave eyeshadow palette has a whopping 30 vegan friendly and cruelty free shades to pick from! You can select mattes, glimmer and sheen finishes.
This affordable palette comes with a handy brush that's double ended, so all you need is yourself and this palette, no excuses!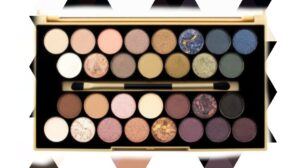 It's priced at around £10 or $13
It has a great mixture of colours consisting of mainly deep shades like dark purples and blues, along with a good amount of neutral colours such as light pink, browns and cream, for the base, to help you get that desired look, whether it be evening or day.
Pacifica animal magic eyeshadow palette
This 100% vegan and cruelty free eyeshadow palette by Pacifica comes with 28 different mineral shades. And guess what? They don't just come in one finish, you get shades in matte, reflective and shimmer finishes.
I also love that they are formulated without nasties such as Parabens, phthalates, talc and mineral oil!
With this palette you can easily pull off a great smokey eye as well as day and evening looks. It has a mixture of neutral hues, deeper ones and even a few bright shades too!
Want to know more? Then click here for a full review on the magic eyeshadow palette!
Illamasqua artistry palette – experimental
Love experimenting with colours? Then you better have a look at this artistry palette by Illamasqua.
With 12 bright coloured shades, this palette literally consists of the whole colour wheel, primary, secondary and tertiary tones!
At the top row you have sunset like colours such as yellow, oranges and reds, with the bottom being greens, blues and purples.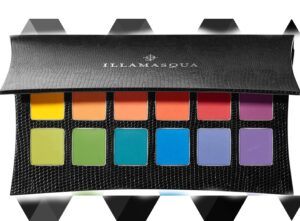 You definitely won't go unnoticed with these eye popping complementary and contrasting shades!
But beware they are on the higher end when it comes to cost, just over £30 or $40.
Beauty bay bright 42 colour palette
Another one for those bright colour loving peeps, this palette has every colour under the spectrum! Literally! You can create any look to your imagination.
The 42 colour palette features finishes in matte and shimmer. As well as bold colours, there are also deep shades such as dark green, deep blue, deep purple and much more.
Apparently it's super high pigmented and has great stay power too!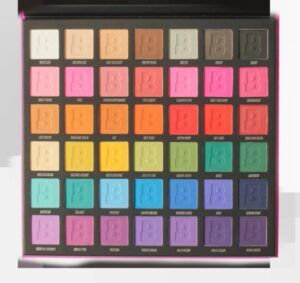 You might be thinking it comes at a higher cost but your wrong! It's available at around £23 or just over $31! Great pricing right?
Elf everyday smoky eyeshadow palette
As the name suggests, this eyeshadow palette by elf cosmetics is perfect for the smokey look!
This 10 shaded palette has all the colours you need to build a smokey eye look, for the day or evening. You could even just go for one or two shades to add a little colour to your lid.
The palette starts with light and neutral colours which you can use as a base or highlight, and gradually gets deeper towards the end, laid out neatly, making it easier to build your look.
You can also use this palette for highlighting and defining the eyes as well as a liner. And for how much? $10 or just over £7!
Tap here for a full review on this palette!
KVD vegan beauty shade + light eye shadow palette
If you love to go for the everyday natural look then you probably might want to take a glance at the shade + light eyeshadow palette by the one and only KVD.
I don't think you would need another palette to help you pull off a great natural look with this one!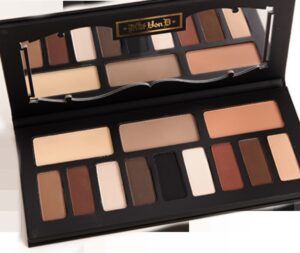 There are three different types of shade undertones, neutral, warm and cool.
The deeper shades help to define the eyes where as the light shades are of great use for highlighting and using as a base. There are contour shades too!
They apparently feel just like soft silk and are as easily blendable too!
At least you don't have to worry where they came from thanks to KVD's motto, 'makeup made with love, not with animals'!
I heart revolution tasty marshmallow wonderland eyeshadow palette
Be careful not to eat it! The tasty marshmallow wonderland palette by revolution beauty is one of the brands ' sweetest collection' created especially for a 'winter treat'.
This palette consists of 18 warm winter nudes as well as a few bright shades. The best of both worlds!
The mixture of mattes and shimmers can help you pull out a 'chilled daytime' look or even a 'full-on winter glam'.
The eyeshadow palette comes in a beautiful, pink coloured tasty marshmallow wonderland themed design, along with a handy mirror on the inside perfectly made for a winter collection!
I heart revolution burger eyeshadow palette
Another revolution beauty product, this palette is quite unique, it basically is a burger with even a cute outer packaging, in the form of a take out box!
I know it might seem like I've just added this palette on here for fun, which is partly true but there's actually more to it than its delicious packaging!
The burger palette contains 8 'mouth watering matte and shimmer' shades which are all vegan and cruelty-free!
What's cool is that each filling holds shades similar to its colour. For example the cheese layer is packed with golden shadows whilst the vegetables holds the greens.
Apparently revolution beauty state this palette is the 'happiest meal you'll ever have!'
Do you have a favourite palette or individual eyeshadow shade which you like? Let me know in the comment section below!
And if you're a fan of neutral shades then check out ethical elephants post!
You can view neutral eyeshadow palettes here!
Or prefer eyeshadow sticks then tap here!
Have a great day!?
Please follow and like us: