I think it's safe to say that I love Pacifica, a few of the reasons why is because they are 100% vegan, 100% cruelty-free and really care for the environment! So persuading me to buy the pacifica animal magic eyeshadow palette was a little too easy.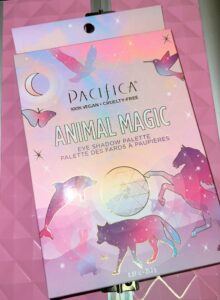 Before I go into my experiences of this product, let's see what the brand has to say.
Pacifica state on their site:
Channel your inner power animal. Twenty-eight animal-inspired magical, talc-free eyeshadows to help make your pretty eyes roar. Take a walk on the wild side and unleash incredible, inspired looks.
I've previously reviewed the pink nude's eyeshadow, click here to view.
I was super excited and in love with this pacifica eyeshadow palette, and I hadn't even opened it yet! WHAT! But shall we see how long this excitement lasted?
Disclosure: This post may contain affiliate links which means that I may earn commission if click and make a purchase but no additional cost to you.
Quick overview:
Pros
Good amount of shades
Environmentally friendly packaging
Easily blendable
Cons
Pigmentation requires a little work
Some issues with fallout
Read on to find out in more detail!
Packaging
The first thing you see is a nice colorful packaging, I really love the mix of colours chosen and the animals, it certainly gives it that magical and dreamy touch!
I usually throw, well recycle the outer packaging but with this one I didn't want to so I kept it for a while until it got wrecked, and then eventually recycled it. That says a lot about how cool the packaging is!
Their packaging are environmentally friendly so nothing is going to waste for sure.
They even have their own recycling program, which you can check out on their website.
Shades
You'd be pleased to know there is a whopping 28 awesome mineral shades!
And what I really like about the shades in this palette is that they contain a little bit of everything, by that I mean there's shimmers, neutrals, mattes, bright and bolds.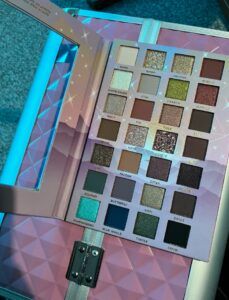 So basically this one palette is enough for your daily look, your outings, day, night or just for fun and anything between, well at least that's what I use it for.
I mainly like to use the shades 'swan', 'stag', 'wolf' and sometimes 'unicorn' which are all somewhat neutral shades with the 'unicorn' and 'wolf' having a shimmer to them.
And then I think for a smokey look the shade 'mouse', 'bear' or 'eagle' which are a dark brown hue, would go well together!
There is also a really deep shadow called 'crow', green camouflage named 'turtle' and lots more.
The 'crow' colour is what I prefer to use just under my bottom waterline as an eyeliner, so quite useful for me.
As you can tell the shadows are named after animals, which of course I don't mind as I love animals!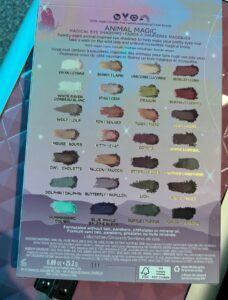 Blending
Applying an eyeshadow primer is really important to ensure an even, smooth look. So after smearing a little primer, I put the eyeshadows blendability to test.
I found the colours to quite easily blend with a small eyeshadow brush and still just as easy with my fingers. Whilst being blendable, they are easily buildable too.
At first, like the pacifica's pink nude's palette, I found the pigmentation to be a little too light especially the shimmery ones but that was easily resolved by packing in a bit of extra powder.
Other than that I thought the pigmentation was just right.
Other things I liked about this palette is:
–Formulated without talc, parabens, phthalates or mineral oil.
– Vitamin E infused
–  The price
The shadows stayed in place for a good 6 hours without transferring, crumbling or melting much which is surprising as it's talc free.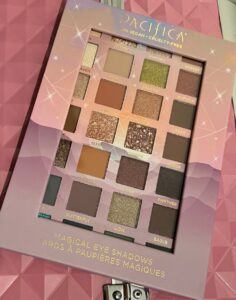 Animal Magic Eyeshadow Palette
Price: $24.00
Overall
The pallete design is nice but it would be even cool if the see through window could have a little design on it that is transparent or maybe I'm just being too picky.
Oh, I would also give it extra points if the shadows were just a tad more pigmented so that less of the powder is needed for the colour to be shown on the crease but overall I'm really into the whole theme and the magicness they leave on the eyes.
I definitely would want to buy this again, as price wise it's really worth it!
If you like the sound of the animal magic eyeshadow palette, then click here to grab yours!
If you have got down to reading here, thanks a bunch for stopping by, if not oh well!
And if you think this palette isn't for you, you can tap here to view some more awesome vegan eyeshadow palettes!
And specifically here for large palettes like this animal magic ? one!
What do you think of Pacifica, have you tried any of their products let me know in the comment section below or if you have any questions!
Have a great day!?
Please follow and like us:
Review Date
Pacifica eyeshadow palette
⭐⭐⭐⭐





Product Name
Pacifica animal magic eyeshadow palette
Price
Product Availability