Talc is a common ingredient used in cosmetics including eyeshadow, blush and foundation to name a few. It's used to give products a silky texture, absorb oils and as a filler. Talc however has been known to cause some health issues due mainly to a toxic mineral that is found within it. But don't worry as here are some of the best talc free eyeshadow you should check out!
Pacifica animal magic eyeshadow palette
The animal magic is a talc free eyeshadow palette packed with 28 animal inspired magical shades to help 'make your pretty eyes roar'. Apart from being free from talc this palette is also cruelty-free, vegan and infused with vitamin E. Plus it's formulated without 'parabens, phthalates or mineral oil'.
This palette contains shades that have shimmer, matte as well as reflective finishes, a good combination! The palette contain neutrals, deep or rich as well as the odd bright shades. 'Take a walk on the wild side' with this palette!
I suggest you check out the full review here!
Vega Lisa eldridge eyeshadow palette
This palette holds 6 shades that can get you through a day and night look. It contains a mix of cool and neutral tones, described as a 'smoky and celestial composition of multi-dimensional' palette.
This palette is a great choice for a 'naturally defined, 90s supermodel look' or you can go with a classic smoky eye, with its choice of cool and neutral greys along with taupes, more specifically 'luminous silvers, light catching metallics and inky matte black'.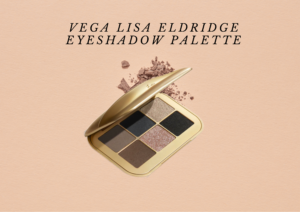 If you are wondering were the inspiration was obtained from, well according to the brand its thanks to 'graphic optical artistry and illusionism' as well as the nature of galaxy.
Ilia beauty the necessary eyeshadow palette
The necessary eyeshadow palette by ilia beauty is necessary! The six pan palette is not only talc free but cleanly formulated too, winning the best clean/natural eyeshadow award! They all support a buttery texture making application as smooth as possible.
The improved formula delivers high pigment that is also easy to blend allowing you to create a soft wash of colour, promising minimal fallout too. In this particular palette, you can choose between two nude tones; a cool and a warm, with both containing mattes, satins and metallic finishes.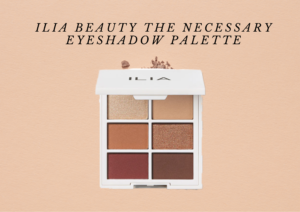 Some key ingredients you'd want to know about are Vitamin E, Jojoba seed oil, and honeysuckle flower extract which are known to soothe, nourish and moisturise skin!
100% pure fruit pigmented pretty naked palette
The cool thing about the 100% pure eyeshadow palette apart from the talc free formula is that all their products are actually fruit pigmented like really! Each shade is coloured with 'vitamin-rich fruit and vegetable pigments', no synthetic dyes here!
Some of the goody ingredients include acai, rose petal, goji berry and much more! These bring some essential features such as antioxidant properties, moisturise, and boosts collagen production!
The pretty naked palette holds a mixture of neutral tones, and soft shimmers for the eyes along with shades that can be used as a blush and a highlighter!
Jane iredale eyeshadow kit
The jane iredale eyeshadow kit is a 'versatile, all-in-one' palette that features shadows with a silky smooth to the touch shades that are rich and buildable enabling you to create 'limitless looks'. These talc free shadows are not only long lasting but 'highly pigmented and crease-resistant'. You can pick between 5 different varieties of palettes with hues ranging from natural, pure basics, natural mattes and more!
Delicate skin peeps don't worry this eyeshadow kit is labelled as 'gentle and safe for sensitive eyes'! Which is believable since jane iredale's products are all clean, natural, vegan as well as cruelty free!
Plus this palette features ingredients such as shea butter, pine bark extract and jojoba seed oil for moisture, soften as well as protect skin.
Did I mention this palette comes with a handy mirror and a dual ended wand for straight away effortless application. What's not to love!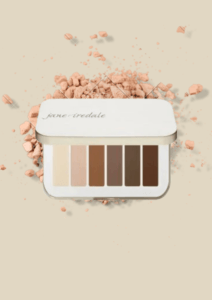 That's it for now peeps! Over to you, What do you think of talc in cosmetics or in products generally? Do they bother you? Drop your answers down below in the comment section!
Have a great day!
Please follow and like us: