Pacifica is a totally vegan and cruelty-free brand. Pacifica has a beautiful bunch of palettes including this Pacifica pink nudes mineral eyeshadow which come in a nicely designed packaging that are recyclable.
This particular pallete includes ten different mineral shades that are infused with coconuts and a matte finish. This is also a great 'daily go-to palette' like the brand mention.
And guess what? They're also paraben, phthalates, petroleum and talc free.
Okay now it's time for real talk, let's go through what this pallete is about!
Disclosure: This post may contain affiliate links which means that I may earn commission if click and make a purchase but no additional cost to you.
Would it fulfill your daily look?
Well of course, like Pacifica mentioned, I think you really would be reaching for it daily because I did especially if you use makeup often.
It has many of your shades in there whether your aiming for a natural look were shades such as moonstruck, lightness of being or nude would be great or a more bold look like a smokey eye then you can build on top using touched, madly deeply, rapture or roused which are all nice medium to richer colours, perfect for your desired look.
Shades
The eyeshadow as said is great for daily use so your probably wondering what colour it consists of. There are matte pinks, browns and warm nudes. Wearable for day, night outs or practically with anything, all down to the neutral shades.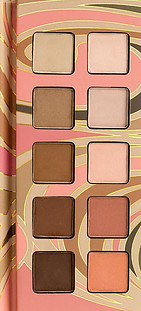 So if your looking for a palette that has the potential to create a day and night look in one then I highly recommend this. All the shade nicely complement each other so you wouldn't really need to be searching for matching shades out of other palettes.
Perfectly pigmented
What I like about this pacifica palette is that it's perfectly pigmented (oh an alliteration). It's not lightly pigmented neither overly pigmented, just right!
When I opened the pallete and applied some to the hands they appeared a little too light but luckily that changed as I smeared it on the lids, it became much more visible but after a few swipes of powder.
Was it easy to blend?
If you've had to literally drag and smack your lids hard just to get some colour on then you'd want to know with this eyeshadow, blending was an ease thanks to the pigmentation as was the application. I used my fingertips to apply as well as to blend and the formula was super smooth whilst having a soft texture. You can blend and apply using a brush if you want, does the job just as well.
Overall appearance
I'm actually quite surprised about how this product appears once applied and the blendability as previously stated. The powder lasted a good amount of time roughly 6 hours and didn't go cakey even on oily lids which is what surprised me the most considering its talc free.
For those of you who don't know talc is a powdery ingredient commonly used in make up to help prevent caking by absorbing oils and gives makeup a silky texture. Your surely left with a beautiful soft textured look to your lid with this product.
To make this review fair I'd like to add the only downside for me was it not having a mirror, I mean it's not really a drawback for most, think I'm being a bit to picky maybe but that would have been great. I'd definitely buy it again regardless.
If you feel like this Pacifica eyeshadow palette is what you are missing then what are you waiting for go grab yours!
If you want to check out Pacificas animal magic eyeshadow palette, then click here!
Why not check out sensitive skin and eye friendly eyeshadows by checking here!
If you already have this amazing palette, What do you like most about this product? Is it the shades? Let me know in the comment section below.
Have a great day!
Please follow and like us: