The best eyeshadows for sensitive eyes usually are free from chemicals and fragrances which can aggravate the eyes as well as the skin. A clean or natural formula helps too!
Here are some awesome examples of sensitive skin friendly eyeshadows!
Quick Overview
Bare minerals mineralist treasured eyeshadow palette
100% pure fruit pigmented pretty naked palette
Inika organic quad eyeshadow palette
Ilia the necessary eyeshadow
Pacifica pink nudes mineral eyeshadow palette
Lily lolo mineral eye shadow
Bare minerals mineralist treasured eyeshadow palette
Holding 12 'jewel-toned shades', this palette is suitable all year round, from subtle to bold hues, you can create endless looks, whether that be something simple or dramatic like the smokey eye effect.
The palette is said to feature shades that are crease proof and last all day long. The mineral form isn't powdery and gritty instead features a creamy texture making blending, building and layering an easy task.
The brand state their palette is suitable for sensitive eyes as well as contact lenses wearers. It's clean, talc free, fragrance free and a good deal of other junk! Oh forgot to mention around 95% of their ingredients are naturally derived.
100% fruit pigmented pretty naked palette
As you can tell by the name this palette is fruit pigmented as well as natural based making it an ideal palette for delicate skin or eye peeps! It's also vegan and cruelty-free!
Natural ingredients include black tea for fighting free radical damage, acai which heals and protects thanks to its antioxidants, rose petals adding its soothing and moisturising touch and much more!
Okay more about the product, the fruit pigmented palette features neutral tones with soft shimmers. It maybe a small palette but it's content can not only be used for eyeshadow but blush and highlighter too!
Each shade gets its colour from 'vitamin rich fruit and vegetable pigments'.
Inika organic quad eyeshadow palette
These quad eyeshadow palettes which hold 4 highly pigmented mineral shades are travel friendly thanks to their cute size. There are three palettes; sunset, flower and wind all with different long-lasting and blendable hues.
The shades are housed in a beautiful luxe packaging with sustainability in mind, 90% of it made from sustainable or reused materials like paper.
So how about us sensitive skin and eye peeps?
Well inika do mention their palettes are suitable for dry, normal, combination, oily and sensitive skins, that's everyone! Their kind to skin formula is enriched with 'softening and nourishing Cocoa Seed extract' and the hypoallergenic carnauba wax.
Ilia the necessary eyeshadow palette
The talc free necessary eyeshadow palette is clean formulated consisting 6 powder form shades. It has won the award for best and clean natural eyeshadow palette in 2021.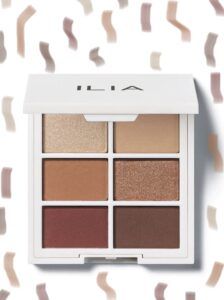 Each shade features a high pigmented, buttery textured formula that is said to blend easily to a soft 'wash of colour' with minimal fallout. There are 6 shades with two palettes in total to choose from, allowing you to go from day to night look swiftly.
Pacifica pink nudes mineral eyeshadow
The pink nudes palette as you can probably tell by the name, is full of daily go to shades that are all infused with tasty coconut.
These shades have a velvety finish and their highly pigmented means you'll experience 'gorgeous payoff'. The shades include matte pinks, warm nudes and browns as well as luminizing ones for highlighting. It's formulated without talc, parabens, phthalates or mineral oil.
For more in depth review on the Pacifica eyeshadow tap here!
Lily lolo mineral eye shadow
Described as 'very gentle on the eyelids' and non comedogenic these mineral eyeshadows are said to be a great option whether you're after a sheer colour wash or an intense look thanks to it high pigmentation. The vast colour range is also something to talk about too, offering around 27 loose powder shades! All the shades except 'Golden Lilac' and 'Black Sand' are vegan friendly.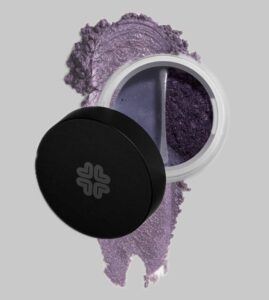 Lily lolo state their eye shadows are long lasting and possess a durable finish with the formula being able to work both wet as well as dry. They are easy to apply too since they have a 'silky and creamy' consistency. And if you are prone to accidental spillages well then you're in luck as this shadow is situated in a lockable sifter to stop spills and mess.
Whilst you're here why not check out makeup removers for sensitive skin too that'll help you get all that days dirt and grub off gently!
That's it for now peeps! What brand do you prefer when it comes to skin sensitivity? Let me know in the comment section below!
Have a great day!
Please follow and like us: