Lip oils just like any other oil products are designed to nourish as well as hydrate your pout which in return softens and protects your lips from dehydration and from cracking. They usually attain these thirst quenching properties from the infusion of natural oils like coconut, sunflower seed, avocado, jojoba, you get the idea along with other beneficial ingredients!
Let's get rolling!
Quick Overview 
Typology tinted lip oil
Rare beauty soft pinch tinted lip oil
Revolution beauty tasty peach lip oil
Barry m coco loco lip oil
Tarte sugar rush lip sip vegan lip oil
Rem beauty lip oil
Typology tinted lip oil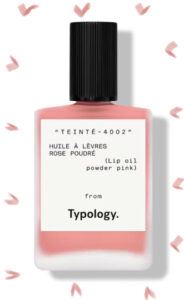 The typology lip oil as you can judge by the name offers a tinted subtle colour for your lips. It is available in 5 well 4 realistically shades since one is an untinted glossy finish. The rest of the shades include ruby red, powder pink, coral orange and plum purple for the bold fans!
Back to what this lip oil offers, all the lip oils are enriched with squalene, jojoba oil, as well as vitamin E which enable them to deliver 'nutrition and suppleness' for a non sticky, glossy finish. You'll be glad to know these oils are 98% naturally derived, formulated without mineral oils, silicones or nanoparticles. No wonder they are winner of the 2022 cosmopolitan summer beauty awards.
Rare beauty soft pinch tinted lip oil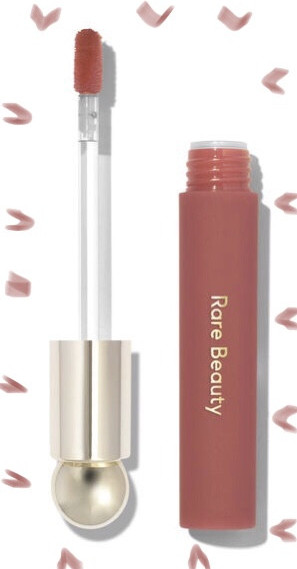 Described as a unique 'innovative lip jelly' which quickly transforms into a lightweight oil, the rare beauty soft pinch tinted lip oil is here to nourish lips with a beautiful 'soft pinch of colour' with a little shine! You get to be spoilt with 8 berry shades, ranging from light nude mauve to deep hues like 'affection', a muted berry and every thing in between.
Each shade promises for a wear that's comfy and never sticky, set to stay all day! It can be layered too for a bold, juicy pop or you can stick with a subtle wash of colour with just one swipe. The overall result? An instantly hydrated, nourished lip for a 'soft, smooth' and fuller, healthier looking pout!
'Treat lips to more love!'
Revolution beauty tasty peach lip oil
The revolution beauty tasty peach lip oil sure must be tasty since they feature a delicious peach scent so be careful not to eat them! For a peach perfect look, these oils work to ultimately provide a nourished, softened lip with aid from ingredients like safflower seed oil and peach fruit extract!
The shades available currently is peach juice that's an orange, peachy keen, described as a pink, and sweet peach, a coral hue which I think looks like a good mixture between a pink and an orange. Theses tasty peach oils are super affordable too at £5 or just under $7.
Barry M coco loco lip oil

Want a glossy, nourished lip? Then look no further than the coco loco lip oil that is here to provide ultimate hydration! The lip oil features a long-lasting fresh, coconut scent in addition to camellia oil to ensure a non sticky icky finish!
Benefits it claims to offer is its 100% cruelty-free and vegan formula along with the infusion of camellia oil for intense nourishment. To achieve best results the lip oil can be applied on bare lips or for a glossy finish layer over your favourite lip product! The lip oil by Barry M is currently available in a clear tint only.
Tarte sugar rush lip sip vegan lip oil
The tarte sugar rush lip sip oil range offers 6 'glossy, sheer wash' of colours that are designed to not only moisturise your lips but help reduce the look of fine lines. I think that's down to the addition of jojoba, hazelnut and sunflower seed oil. These skinvigorating ingredients help lock in, maintain moisturise, relieve along with protect dry lips for soft, supple results!
It comes along with a doe footed applicator that's a jumbo size, ooo, which apparently makes application a piece of cake! Along with being vegan and cruelty-free, it has also been dermatologist tested. Did I mention they are raspberry sugar cookie flavour, yum! Tarte also promise for a no sticky texture, sounds good to me!
REM beauty lip oil
The rem beauty lip oil by Ariana is not only a lip oil! Oh no! It features a sheer wash of colour along with a glossy shine and of course the hydrating benefits too! The addition of coconut oil certainly goes a long way in providing the lip oil with 'ultra hydrating' properties. The rem beauty lip oil promises to condition as well as hydrate lips with consciously made ingredients.
You get to pick from 4 beautiful sheer pastel shades with their own subtle hint along with natural extracts. The end result with the rem beauty lip oil is a silky smooth, non sticky glossy lip in 'nourishing shine'!
For a more in depth review I suggest you tap here!
Rights that it for now peeps!
But if you don't want leave just yet than I suggest you tap here to check out vegan lip glosses for that much needed shine!
Or if you aren't a fan of the glimmer then maybe these matte lipsticks may appeal to you!
Hope you have a great day!
Please follow and like us: