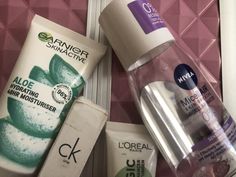 I personally don't believe in animal testing, there are many reasons like, the poor creatures go through a ton of pain as kindness and compassion isn't guaranteed another more obvious reason is they are animals and we are humans so what works on them won't necessarily work for us! So here is a bunch of makeup brands that test on animals.
This way you'll know what to watch out for!
L'Oréal
L'Oréal is a French beauty brand that is one of the biggest and popular company. Founded in 1909, they started out producing hair dyes which has now branched out to makeup, hair and skin products.
When looking out if L'Oréal is cruelty free you may find it confusing as on their site they state they don't test their products on animals however they don't appear as pain free. This is due to their products being sold in China, where the cosmetic regulation are different. Unlike some countries, in China the health authorities require animal testing to be carried out.
L'Oréal does own quite a few brands which may come up in this list.
MAC
Mac also known as makeup art cosmetics, was established in Canada 1964 by two Frank's, tosken and angelo. Starting from their kitchen to worldwide now, Mac sell makeup products for the lips, eyes and face as well as brushes, tools and skincare items.
MAC on animals testing:
"M·A·C does not test on animals. We do not own any animal testing facilities and we never ask others to test on animals for us."
Although they do state this and don't own any animal testing facilities however Mac do sell their products in China which I think you all know what that means, basically there is some sort of animal cruelty going on.
Estée Lauder
Estée Lauder, founded in 1946 in the US by Josephine, from setting out on skin care products to now fragrances, and makeup as well as hair care.
Estée Lauder statement on animal testing:
"More than 30 years ago, we were one of the first cosmetics companies to eliminate animal testing"
Like a few of these brands they don't personally test their products on animals but where countries require it then unfortunately they do.
NARS
NARS started in 1994, selling only lipsticks which then led to makeup and skincare products due to the high demand. The name NARS comes from the owners original name, François Nars!
"NARS does not test on animals nor do we ask others to test on our behalf, except where required by law."
Unfortunately as NARS does state they will test when required by law, this means animal testing can take place. A while back NARS did not used to test on animals but since making their products available in China, which has a law that requires animal testing, they now will accept it.
Maybelline
It was created in 1915 in New York and has a little family story to how it became what it is today, you should check it out! It sells a range of products including face,eyes, lips, nails and much more.
Maybelline's answer on if it tests on animals:
"L'Oréal no longer tests any of its products or any of its ingredients on animals, anywhere in the world nor does L'Oréal delegate this task to others. An exception could only be made if regulatory authorities demanded it for safety or regulatory purposes."
Maybelline is owned by L'Oréal so that's the reason why they used L'Oréal here.
This statement can seem a bit misleading especially if you don't read all of it properly as with many of these brands, they do accept animal testing when a country requires it so that clearly shows they are open to tests on animals. Maybelline sells in china so therefore is part of an example of brands that aren't cruelty free.
Bobbi brown
Bobbi brown started launching lipsticks in 1991 and then branched out to the many products you can purchase today! On her first day of selling lipsticks, she sold a whopping 100 which she was hoping to achieve in a month, so for her to do that in a day must be mind blowing if you think about it.
You can find a range of products in the categories which include face, skincare and makeup.
Bobbi brown is owned by Estée Lauder, so I think you know where this is going. They have similar rules to Estée Lauder so unfortunately aren't cruelty free.
Bobbi brown's statement on animal testing:
"We do not test our products on animals, nor do we ask others to conduct animal testing on our behalf, except when required by law."
You probably can figure out that they also do allow tests on animals to be conducted as they sell in china so therefore aren't considered as cruelty free.
Remember peeps to check the website of the brand to be absolutely sure but still don't forget to check if they sell their products in countries which allow animal testing such as China.
A brand may state they are cruelty free but can still allow tests to be done depending on where they are selling!
If you want to check out alternate brands that do not test on animals then tap here!
That's the end of this article lovelies!
Have a great day! ?
Please follow and like us: