I'm not a big fan of full coverage foundations as they tend to feel heavy and stiff on my face. And a foundation with a matte finish is usually a no go for me! But guess what, the 100 pure fruit pigmented foundation is actually both full coverage and has a matte finish! Quite odd for me to pick!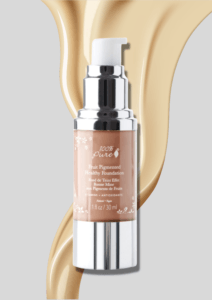 So you are probably wondering why on earth did I buy it then?
Well you'd have to read on to find out if I actually did open my arms to it or just wasted my money and dumped it. (Comes just under £45)
Quick overview:
Pros
Wonderful fruity ingredients
Easily blendable
Long lasting
Great coverage
Cons
Shade range is quite limited
Dries fast so you have to blend quickly
Description
The fruit pigmented healthy foundation is a full coverage liquid based formula. It features 'soothing aloe, antioxidant rich superfruit oils' as well as other skin nourishing nutrients.
It's said to be ideal for covering dark circles, hyperpigmentation, control shine and balance excess oil, which both of them I definitely can do with!
Though the consistency is a creamy liquid it should dry down to a matte finish leaving you with a 'velvety, smooth skin'.
Right let's get into it!
Shade selection
Let's start with the shade selection!
The 100% pure fruit pigmented foundation comes in 9 different shades which is not too bad but an expansion would be great!
I have to mix two different shades so that I can closely match my skin tone.
I use the shade 'golden peach', a medium tan with warm undertone, mixed with a little of 'alpine rose' which is a fair with cool undertone hue.
I do have a cool undertone but find that none of the shades on their own go with my skin colour.
I'm going to have to try 'sand', a light medium with neutral undertone, maybe that would blend in nicely.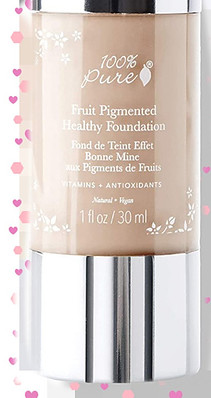 The fairest shade of them all is 'alpine rose' and the deepest is 'cocoa' a deep with red undertone.
Ingredients
The ingredients for me is a totally awesome bonus! I was wondering why it's called fruit pigmented, it actually has fruit pigments that's why!
This is a natural foundation combined with some yummy ingredients.
It's formulated with goji berry, which is good for the skins' elasticity and helps collagen production, mangosteen, known to tighten skin and lessen wrinkles as well as a bunch more of equally beneficial ingredients.
It makes me feel good knowing I aren't applying any junk to my precious face!
100% pure's statement of 'antioxidant-rich super fruit oils' is surely true!
Blendability/application
I applied about 2-3 pumps to get a medium to full coverage across my face evenly.
Using a beauty blender, I was able to easily conceal my spots as well as a few uneven tones without much effort.
I definitely think it has the potential to cover dark circles, acne and hyper pigmentation due to its thick consistency.
The pigmentation is not too strong neither too light, which means cleaning the makeup brush isn't a chore. A few sprays of a good makeup remover usually does the trick.
If you are after a full coverage then using a foundation brush or kabuki brush will get you there much quicker. Not a large amount is required to provide a decent coverage.
As for blending, you will have to blend quickly after applying as it will dry up, just like 100% pure state.
This is due to the matte finish. Besides the quick drying factor, blending is easy especially if using a beauty blender, you dampen it.
Heavy or lightweight?
I try to steer away from matte finish foundations or full coverage one's due to them being quite thick and heavy feeling on the face, regardless I decided to give this foundation a go and you know what I'm glad I did!
I didn't experience any signs of heaviness such as a cakey face or stiffness, it actually didn't feel any different to the usual light to medium foundation coverage I go for!
Lastage
I prepped my face beforehand and then also powdered after application.
You want to know how long it lasted on my combination skin?
Well I applied it around 10am and the foundation started to show its weakness, basically melting on my forehead (which is known to be the oiliest place on my face), at around 3/4 pm.
Which means it lasted around 6 hours on me.
The dry areas like my cheek were still going strong surprisingly, I thought they might be the first to erupt due to the foundation ment to be for controlling shine.
Overall I don't think the lastage is too bad, I'll take it!
Those with dry to normal skin may find it to be more long-wearing judging by my experiences.
My thoughts overall
To summarize, I really appreciate the ingredients, the soft velvety feel on my face, as well as the coverage.
However, I would like to see the shade selection expand with various undertones and shades into consideration.
The lastage being extended would be an extra bonus though it was good enough! I would give this foundation a 8/10!
If you are looking for a matte finish foundation with awesome natural ingredients that provides a great full coverage quite easily then this could be your friend!
So what foundations do you prefer, light, medium or heavy coverage? Let me know in the comment section below!
Or tap here to check out some more awesome vegan foundations!
Have a great day!?
Please follow and like us: