The bare minerals tinted moisturizer judging by its description, seems like a great foundation for anyone who loves light coverage but also want the benefits of a skin care product! It's said to be 98% naturally derived! That definitely sounded appealing to me!
If you'd like to know how it actually performs then continue reading as I go through my favourite aspects as well as anything I wasn't a fan of!
Quick overview
Pros
Large shade range
Good formula consistency
Easy to apply
Lightweight
Blendable
Cons
Lastage could be improved
A little sticky when layering
Disclosure: This post may contain affiliate links which means that I may earn commission if click and make a purchase but no additional cost to you.
Description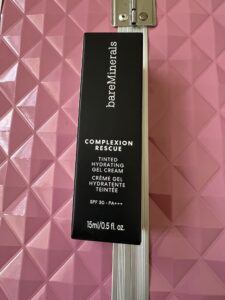 Bare minerals state their complexion rescue tinted moisturizer is a 'ultimate 3 in 1 multi tasking' product, a skincare, makeup and SPF. I haven't heard of that before!
This tinted moisturizer 'combines hydrating skincare benefits with radiant, natural looking coverage', plus the SPF 30, it really is a multitasker!
It provides a buildable coverage capable of going from light to medium coverage which shouldn't feel heavy or tight.
It apparently has been proven to boost skins hydration by 215% in just a week! As you can tell this moisturizer does sound like a great thirst quenching product for those skins which are often dry. So how good is it? Read on to find out!
Shades
The tinted moisturizer comes in 20 shades which I'm actually quite surprised.
I wouldn't expect a tinted moisturizer to be this varied as usually a couple basic shades are said to be enough to cover a range of skin shades and tones, which they never do actually.
I sometimes struggle to find the perfect match at the first few tries!
Anyways back to the product, this moisturizer covers a range of complexions from fair with neutral undertones to deep tones with warm undertones.
The closest matching shade for me I thought would be 'suede' which is for medium with cool undertones however I actually went ahead and got 'buttercream', made for light skin tones with neutral undertones.
This shade was recommended by the brands website for my tone. I found it did fit well with my skin.
Shade range = 9/10!
Application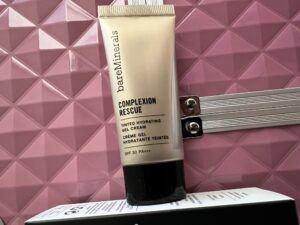 The formula is gel like mixed with some creaminess. It has a good consistency, not too runny or too thick. Which makes apply it a breeze.
Bare minerals suggests applying this moisturizer using a face brush, I went against this, deciding to apply and gently blend with my very own fingers! I used this method when going for a light coverage.
However if I was to aim for a medium coverage then a brush probably would be the best option!
So how was application? Overall it was really easy to apply and blend. I added a few dots of the formula on my face and then dabbed it into my skin. I liked that it wasn't heavy at all so they weren't lying when bare minerals said it's 'lightweight'! However I did notice the foundation made my face a little stiff when I layered to add more coverage. This could be because I'm not used to full coverage since I didn't have this issue when applying a single layer, other than that it was good!
Application = 8/10!
Lastage
As you may know tinted moisturizers or any light coverage formulas aren't really as long-lasting as their counterparts, like full coverage foundations.
They probably stay around for up to 3-4 hrs if they're of good quality, before needing touch ups.
So how long did this tinted moisturizer last till it needed reapplying?
Well for me, who has a combination skin, this foundation did pretty well! It stayed put for around 3 hours before I spotted some uneven colouring and had to whip it out again!
Lastage = 7/10!
So overall I give this tinted moisturiser an 8/10! I like the shade range along with the light feeling on the skin and consistency, the blend ability is good to as is the coverage however the lastage could be improved. I'm also not sure if it is a good product for individuals looking for a medium coverage but if light is all you need then go ahead check it out!
If you'd like to check the tinted moisturizer out then tap here!
Tap here for more vegan tinted moisturizers!
So do you prefer full coverage or light? Let me know in the comment section below!
Have a great day!
Please follow and like us: