If you have delicate skin you have probably experienced irritation such as redness or dryness sometimes at even the slightest touch of products. I mean I'm even scared at trying new products as I don't know if my skin may disagree and therefore react. So what is the best primer for sensitive skin you ask?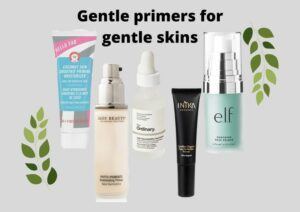 Well as everyone's skin is unique it's quite difficult to tell exactly how or if ones skin may react but generally products which have heavy fragrances or harsh chemicals are what causes irritation.
If you have delicate skin then going for natural or organic products with plants or other natural ingredients are a good recommendation.
So here are a few examples of primers that are suitable for sensitive skin individuals. Enjoy!
Juice beauty phyto-pigments illuminating primer
Juice beauty's aim is to 'transform the chemistry of makeup with vibrant plant derived phyto-pigments' instead of using artificial dyes. I mean that sounds pure enough for us sensitive skin peeps! Right?
This particular primer hydrates your skin but at the same time also blurs the appearance of wrinkles and lines thanks to its age defying technology!
The recyclable materials mean this product is eco friendly too.
This primer is actually suitable for all skin types and ages! The hazel extract helps control shine whereas the coconut alkenes and organic glycerin hydrate the skin.
It's formulated without no parabens, proplyene, pesticides, synthetic fragrances and much more junk, making it gentle for sensitive skin peeps too! Oh plus the aloe leaf juice for added soothing properties.
The ordinary high spreadability fluid primer
Looking for a lightweight serum like formula which glides on without no effort? Well then this ordinary high spreadability fluid primer might be of your interest!
This primer is free from alcohol, oil and silicon and guess what? You get this all at an affordable price! At just under £6 or $7.60.
This primer helps tame the build up of unnatural and uneven pigments that especially occur around the eyes, leaving you with a natural dewy look.
Inika certified organic pure perfection primer
This organic primer made from 100% natural ingredients provides a smooth canvas for you to work on without the worry of harming your beautiful skin from unknown chemicals.
Enriched with oils such as jojoba, apricot and lemon myrtle as well as hyaluronic acid and kangaroo paw extract, this primer doesn't only hydrate and soothe skin but also help reduce the aging process.
The brand state this primer is suitable for dry, combination as well as sensitive skin, to no surprise.
Elf soothing face primer
Elf is a great affordable brand with a wide range of quality products suitable for all skin types and ages!
But the product we are talking about is the soothing primer, especially beneficial for us sensitive skin peeps!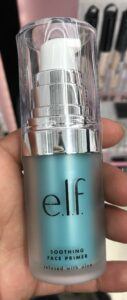 Apart from this primer being ideal for creating a long-lasting smooth canvas for applying makeup, the soothing formula is enriched with ingredients such as Aloe Vera, vitamin E and B5, all catered to calm, nourish, sooth and moisture your precious face which is prone to irritations.
First aid beauty coconut skin smoothie priming moisturiser
The coconut skin smoothie by first aid beauty is a 2 in 1, primer and moisturizer.
It instantly not only brightens and hydrates but also smoothens the complexion which then helps blur the appearance of imperfections and pores.
Other problems this primer claims to find solutions to is dryness, dullness and uneven texture.
With formula that's rich with vital proteins, minerals, electrolyte and infused with natural coconut scent, it's no surprise it's called a smoothie!
Free from a good deal of junk such as artificial colorants, and fragrances, phthalates, formaldehyde, lanolin and much more, this primer is definitely suitable for sensitive skin. It's also non comedogenic.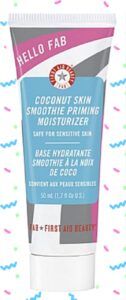 Bare minerals blemish rescue primer
The bare minerals blemish rescue primer is here to save the day! This primer helps clam irritation and 'neutralize visible redness' leaving a balanced healthier looking complexion.
It 'mattifies skin and purifies pores' apparently instantly according to a consumer test.
It also nourishes the skin and encourages the skins defense against bacteria, something us sensitive skin peeps are in need of!
Ingredients like chamomile, and naturally derived minerals as well as fruit extracts shows this primer is definitely here to deliver skin caring benefits! Free from talc, synthetic fragrances, parabens as well as other junk!
Do you have sensitive skin? What's your skin care routine? Let me know in the comment section below!
Oh by the way I suggest you check out foundations for sensitive skin!
Or makeup removers especially made for our delicate skins!
If you want to learn more about your skin type then tap here!
Have a great day!?
Please follow and like us: