If you'd like to know if this affordable product actually works then I suggest you continue reading this elf wow brow gel review to find out if this affordable product is worth buying, as I go through my favourite aspects as well as any features I didn't like.
Elf is an awesome brand, it offers a range of products, all at an affordable price and of great quality too! What more could you want from a brand!
I typically choose to use pencils for shading my brows as I feel more in control, they also have decent pigmentation too. But gels are my second favourite especially when I'm in a hurry, I have to have a brow gel lying somewhere.
So as the elf wow brow was a gel and at great pricing, it was on my list to purchase. And I did!
Disclosure: This post may contain affiliate links which means that I may earn commission if click and make a purchase but no additional cost to you.
Quick overview:
Pros
Easy and smooth application
Perfect size brush
Easily cleanable
Gives a nice hold
Affordable
Cons
Runs out quick
Dries up fast
Let's start!
Shades
The elf brow wow gel is available in 5 different shades. There is a deep brown, brunette, taupe, neutral brown and black. The one which fits my brow colour the best is black.
I was originally going to go for a shade lighter, so the deep brown, but then I remembered the last time I had bought a brown shade, it was too light so I didn't want to go through the same problem again of getting two different colours.
And plus the black shade might give me that extra boldness which I'm after.
The black shade does seem to have great pigmentation however when I apply it to my brows it doesn't seem as dark as I had expected it, but I still approve.
Texture
This brow product does have a gel like texture. It has a wet and a little sticky look to it when you grab large amounts of the product otherwise it appears fine.
When you apply it goes down and spreads smoothly. It doesn't cause any clumps unless you have applied a generous amount.
Application
Application is easy and simple. At first the brush applicator felt a little big but I guess that was because I wasn't used to applying with a spoolie/brush, I'm more of a pencil or pen girl.
After a few applications I actually noticed how small it was compared to a few other brow applicators.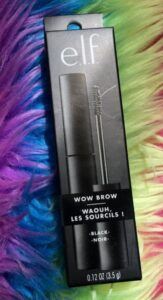 On other words it's just right! Big enough to coat your brows but small as to not create a mess somewhere other than your brows.
Even if you do end up swiping your skin with the formula, it's pretty easy to clean off, so no worries.
I apply the gel on it's own, it has enough pigment to be just noticeable for a great natural look however if I want a bold look then applying a brow pencil beforehand is necessary otherwise the gel won't pop out enough on it's own.
If you have hair sparsely then I think you may be able to just about pull it off. For thick brows I would recommend applying a different product underneath.
The way I apply is similar to how elf suggest, starting from the inner corners then going towards the tail in an upward stroke.
How well does it add volume?
Elf's main aim with the wow brow gel is to create a full voluminous looking brow, so I can imagine that's what we all are expecting.
But does it actually leave you with visibly bold brows?
Well it certainly does make my brows appear fluffier and stand out. I have naturally thick brows so I'm quite impressed this product was able to provide noticeable results.
It also gives a nice hold without the heavy feeling.
This brow gel is infused with fibers to help bring out every hair strand, it works similar to how a mascara does.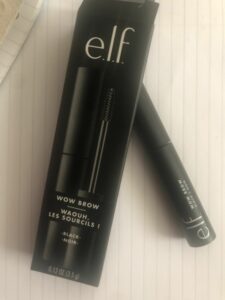 Overall this is a great product, the affordable pricing gives it that extra advantage over a few of the other brow gels I've tried.
I think anyone who is looking to add a little colour to their brows would love this or if you aren't too keen on using pencils or pens then this product would be ideal too.
Due to it's budget friendly price, I think I might repurchase it and keep it for when I'm in a hurry or just wanting to tame my brow as well as add a little volume to them.
If you feel like checking out the elf brow wow gel for yourselves then tap here!
Do you prefer gel products or pencils and why? Let me know in the comment section below!
While you are here you could check other elf products by tapping below!
Have a great day!?
Please follow and like us: