The elf 16hr camo concealer is vegan, cruelty-free and affordable, who wouldn't want to give that a go! It's also free from junk such as phthalates, parabens and sulfates. Do continue reading the Elf 16hr camo concealer review to find out how it truly performs!
I've tried many elf products and so far have had positive experiences so I guess I don't know, I expect a similar pattern.
Another reason why I decided to go for the camo concealer is,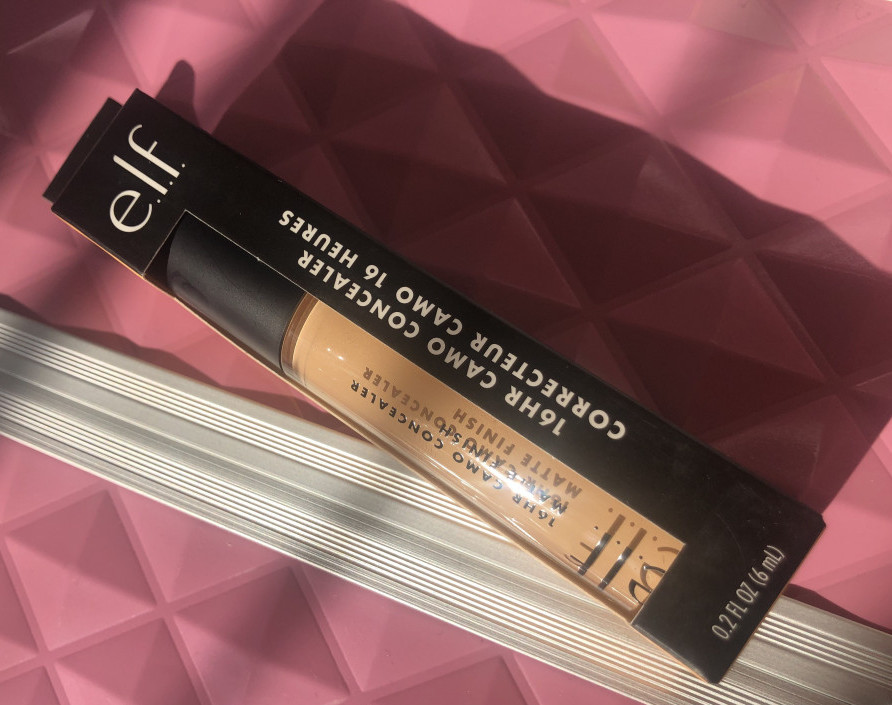 I'll give you a clue, it's in the name.
Yeah the 16hr wear! Not that I'm expecting the full hours but at least half of that would be cool too!
So shall we begin? I suggest we do!
Quick overview:
Pros
Decent shade range with various undertones
Isn't heavy
Blend-able
Great lastage
Cons
Consistency is a little thick
Disclosure: This post may contain affiliate links which means that I may earn commission if click and make a purchase but no additional cost to you.
Starting with the shade range…
Shade range
The shade range is one of my favourite things about the elf 16hr camo concealer. They go from fair, light, medium, tan, deep and rich. With cool, neutral and warm undertones.
The shade is a selection of 26 varieties. I'd say the colour does match fairly however at times depending on the season I have to do a little mix and match but other than that it's a thumbs up for the most part.
Application
The elf concealer comes with a large doe foot applicator which means applying it should be fun and easy!
Did I find it fun or at least easy? Well yeah but as I only literally apply small amounts of concealer, I found that the applicator grabbed more product then I needed.
Which I guess is great for some or for those who use a good amount of product.
I usually prefer to use my pinky finger to dab, so what I did was smother some on my hand and then go from there.
When I gave the applicator a go I found that it actually worked better than the fingers to achieve a smooth finish however this doesn't stop me from using my fingers!
If I put my preference aside then I'd say the doe foot applicator does a decent job, going down smoothly!
Lightweight or heavyweight
It's really important that concealers in my opinion are super lightweight because if we are going to be wearing foundation and other products then imagine how freaking heavy and suffocating that would feel on your skin. That would feel stiff as a robot!
Elf mention that this camo concealer is "lightweight, highly pigmented" so I was definitely expecting some wicked results. So what did I get?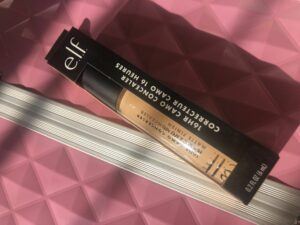 At first, it seemed heavy going down however once I started to blend it in, the results were better. It did appear to be a little thick but nothing too tight.
I would give it the lightweight feature overall as it wasn't cakey, which is generally a common problem seen in heavy-feel products.
How easy is it to blend?
As you can tell I prefer using my fingers so what did I use to blend this concealer? Yep you guessed it my pinky finger! Strange a little but I'm used to it especially when I don't have my brushes at hand!
I only used a little concealer so it was pretty easy to pat down.
I also tried to use a little extra product (of course to make this review fair) and then blended using a small concealer brush and the results were pretty decent.
It was just as easy as using small amounts of concealer so overall the elf camo concealer blends well!
You can check out the elf 16hr came concealer here!
What do you think of elf products? Do you have a favourite or a product you aren't a fan of?
If you don't want to leave then tap here to view the elf flawless foundation review which elf recommend to use together!
You could also view the elf glitter eyeshadow here!
Have a great day!?
Please follow and like us: