Elf is a great affordable brand. They offer quite a decent amount of items, from primers to foundations, makeup tools and everything in-between. So when I was out on the lookout for a new eyeliner I decided to go for elf's liquid liner. Continue reading the elf intense ink eyeliner review if you want to find out how this liner actually performs!
I'll start off with what the brand state this liner is about!
Disclosure: This post may contain affiliate links which means that I may earn commission if click and make a purchase but no additional cost to you.
Description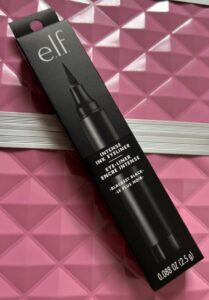 Elf state this eyeliner will 'instantly enhance the lash line with a rich and long-lasting colour'. It's also said to have a 'quick drying' formula. Which I'm definitely in need of!
The elf intense ink eyeliner has a felt tip, which should give you the ability to create 'sleek or bold lines with complete precision' and ease all without the worry of smudging, feathering or running!
Sounds good to me! But is it?
Continue reading if you want to know my favourite aspects of this product as well as anything I wasn't a fan of!
Quick overview:
Pros
Quick drying formula
Soft tip
No noticeable smudging or feathering
Affordable
Cons
The tip is a little on the thick side which of course if that's what you need then I guess it's a pro!
Tip dries out quick especially if not shut properly.
Application
Application is the most important feature of an eyeliner, along with of course the pigmentation. I find the best product to be comfortable to hold, not slippery and just the right size.
The pigmentation has to be easy flowing and intense enough that even one swipe would do enough!
So how was this liner?
Well, I found the actual product to fit nicely in my hands, the grip was good too! However, the actual tip of the pen seemed to be on the thicker side, which means a thicker wing look.
I regularly do the cat eye look and this pen in my opinion wasn't the best tool for it.
I'm used to using small precise tips to get that sharp look which this product definitely didn't have, saying that, I'll tell you what I preferred using the liner for though.
It did great for lining my upper lash. Usually I'd have to draw and then draw on top to get a thick line but the intense ink only required me to go once.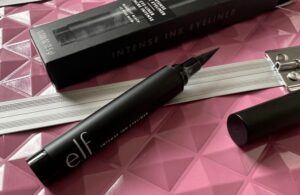 Another thing I liked about the eyeliner is the felt tip itself, it wasn't solid so didn't poke my eyes neither was it too fragile or flimsy, just right.
If you prefer your wings to be thick then I can't see why you wouldn't like the slightly big tip.
Pigmentation
Moving onto pigmentation! It's in the name elf 'intense' ink eyeliner, so you would expect amazing rich results wouldn't you?
Sadly this wasn't the case, the colour didn't come out as deep as I had in mind, it appeared a little greyish on the first swipe, so I went over it again and only then did it look black.
But still not as intense as the name, I'd say like any other eyeliners.
Quick drying
Elf state this eyeliner is 'quick drying' but how quick is quick?
If you ask me what I consider as quick, I'll say as soon as you are finished drawing the line, it should be dry.
Is that too soon? I don't know but I'd want to be able to curl my lashes as soon as I'm finished lining! (Yh I line then curl)
The elf eyeliner wasn't that fast but I would consider it quick drying. I was able to continue doing my eyes after a few seconds.
Lastage
As for the lastage, I wouldn't say it's long-lasting but it's manageable. It got through around five hours of normal cool weather conditions before I had to top up.
The problem was the colour started fading, making it look grey but the easy application at least made it less problematic.
If I had to look for the downside I think it would be dryness of the product. I've been using it for a while now and have started to notice the pigmentation getting even lighter and seems like it's getting dry too!
I apply it and then when I need to touch up during the day time it pulls a little of the previous product off instead of fixing the fading problem. I have to give it a few shakes and leave it facing the tip downwards.
So overall I'd rate this elf intense ink eyeliner a 7/10! I like the drying time as well as the soft tip. I also like the thickness for lining my top eyelid but not so great for the precision wing look unless of course you are going for a thick wing then you probably can manage.
I didn't notice any smudging or feathering which is another pro about this liner.
I'd like to see an improvement in the pigmentation and the formula moistness to give it an extra point but other than that it's a good product to have especially if you look at the price.
You can check out the elf intense ink eyeliner here!
Click here if you'd like to view more awesome vegan liquid eyeliners!
Or below to view other elf products
If you have any questions or suggestions please let me know in the comment section below! And I'd be more than happy to help you out!
Otherwise…
Have a great day!?
Please follow and like us: